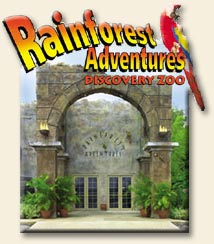 Rainforest Adventures-Sevierville
Rainforest Adventures is home to some of the planet's most fascinating creatures, many of which hail from the rain forests of the world. A wide variety of reptiles, amphibians, mammals, birds and insects are on display, including snakes and lizards, lemurs, parrots and cockatoos, tarantulas and scorpions. There's also a new exhibit called Aussie Walkabout, a 17,000-square-foot addition where guests can get up close to their favorite critters from down under, including kangaroos, wallabies, sheep and goats. There's also a 5,000-square-foot walk-through aviary. Overall, Rainforest Adventures has more than 400 live animals, representing more than 130 species, on loan from some of the finest zoos in the country. The exhibits have produced by zoological contractors who have worked with Walt Disney World's Animal Kingdom. Rainforest Adventures Discovery Zoo is open year 'round.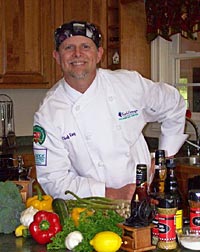 Personal Chef Service

At Fruitful Vintage Personal Chef Service we provide unique services featuring formal (plated and served) or informal (buffet, self-serve) 3 or 4 course dinner parties, appetizer parties and catering events. Our menus are customized just for you and your guests and prepared, on-site, in your cabin kitchen. Our services start for two guests and can accommodate meals for breakfast, lunch, or dinner. Entertaining couldn't be simpler or more enjoyable than by having your own personal chef! Call Chef Ray today at 865-774-0251 to request menu selections and a free quote.

Dollywood-Pigeon Forge
Welcome to Dolly Parton's very own theme park in the Great Smoky Mountains of Tennessee. Located on 125 rolling acres, the park, which is based on the life and times of the country music legend, has something for everyone, from mountain music shows to live craft demonstrations to restaurants serving the delicious flavors of the South. And there are rides and attractions for all ages and interests, from kiddie rides to wet rides to some of the most popular roller coasters in the nation. And don't forget about Dollywood's many festivals and special events throughout the year, including Festival of Nations, KidsFest, National Gospel & Harvest Celebration and Smoky Mountain Christmas. In the summer, you can also keep your while having a blast at Dollywood's Splash Country. 800-DOLLYWOOD

Ripley's Aquarium-Gatlinburg
This collection of underwater creatures is one of the area's premiere tourist destinations. The aquarium is home to hundreds of different species of aquatic life that captivate visitors with their beauty and mystery. The facility utilizes nearly 1.5 million gallons of water to house more than 10,000 saltwater (and some freshwater) life forms in dozens of tanks and displays. Around every corner is a new discovery, each specimen a marvel of nature that otherwise could only be seen from behind a scuba mask. In the aquarium's largest tanks—Shark Lagoon, Touch-a-Ray Bay and the Coral Reef—divers get in the water and interact with their undersea friends in hourly dive shows. In the Discovery Center, visitors can get up-close themselves, petting live horseshoe crabs in the "touch tank." In addition to the tour, guests can explore the aquarium's Cargo Hold gift shop and two food concessions—the Feeding Frenzy snack bar and The Veranda restaurant. 865-430-8808

NASCAR Speed Park-Sevierville
Gentlemen (and ladies), start your engines at this fast-moving go-cart racing attraction in Sevierville. Nine different go-cart tracks anchor this family entertainment center located between Governor's Crossing and the Tanger Five Oaks Outlet Center. The tracks come in all shapes and sizes and offer racing action for all ages—from tiny tots to lead-footed adults. But the mega-sized SpeedPark has much more than just go-carts. You'll also find five family/kiddie rides in the Thrill Zone, an indoor climbing wall and playground, bumper boats, racing simulators, Dragon's Lair Fantasy Golf and an indoor playground to ensure that there's something for everyone to do. There is also a snack bar, arcade, and gift shop. The attraction is open throughout the year on a varying schedule. 865-908-5500




Theaters
Magic Beyond Belief-Pigeon Forge
Magician and master illusionist Terry Evanswood stars in this high-energy parade of grand-scale illusions, close-up magic and sleight-of-hand tricks. State-of-the-art light, sound and music enhance the production, and two large video screens ensure that no one misses any of the action. Audience interaction, humor and live animals are also added to the mix, creating a fast-paced, fun, energetic show for all ages. In addition to the show, the theater features a magic shop as well as a free attraction, the Hall of Magic, which consists of Evanswood's own private collection of magic memorabilia spanning more than a century of history. Magic Beyond Belief runs through the rest of 2009, with shows scheduled for 3 and 8 p.m. 865-428-5600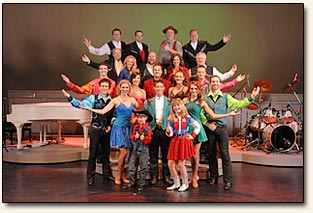 Country Tonite Theater-Pigeon Forge
Since its Smoky Mountain debut in 1997, Country Tonite has been a standout in the music theater community, wowing audiences with nonstop energy and variety, not to mention country music's most popular and beloved songs. However, you don't have to be a fan of country music to like Country Tonite. The show has a broad appeal with its lineup of soul-stirring gospel and patriotic music and high-energy variety acts like cloggers, youth performers and the irresistible comedic capers of Bubba the Redneck Ranger. Tying the show together onstage is a multitalented cast of musicians and vocalists, whose talents blend together seamlessly on stage to create entertainment magic. The theater also hosts a celebrity concert series and a morning show featuring multitalented singer and musician Patty Waszak. Country Tonite is open late March through December with one to two shows daily, depending on the time of year.
Grand Majestic Theater-Pigeon Forge
Take a trip back in time to experience firsthand one of the swinging-est musical periods ever—the Big Band era. This theater's regular-season show, "Swing Time!," takes audiences on a jumpin', jivin' and wailin' journey through the music that served as the soundtrack to our nation's World War II experience. The Broadway-style production showcases a world-class cast of singers and dancers as they bring high-energy dance numbers and touching patriotic tributes to the stage. Strong voices, intricate dance steps and colorful costumes are just some of the highlights of each performance. The show chronicles the life of main character Edwin Parker, a retired army Colonel who tells his story through a series of present-day reminiscences. Each segment of his life—from meeting the love of his life, to going overseas to fight in the war, to being reunited with his family stateside—is played out onstage through song-and-dance numbers and complemented by actual film clips and newsreels from the period. The Grand Majestic's season runs March through December. 888-472-6308
Hoot N' Holler-Pigeon Forge
Taking place in a 300-seat theater inside Pigeon Forge's WonderWorks attraction, Hoot N' Holler is a musical presentation that takes audiences along on the adventures of the Hoot N' Holler Gang—four traveling vaudeville performers who spend the evening singing and dancing their way through a repertoire of beloved song standards. You are also introduced to the gang's cook, Scraps, who makes it clear that he's ready to trade in his pots and pans for his own spot in the limelight. A frustrated entertainer at heart, Scraps displays his own arsenal of comedy, juggling and magic skills throughout the two-hour show. Rounding out the bill is a multicourse Italian feast that kicks off with a pre-dinner salad and culminates in a main-course trio of pasta of dishes and strawberry shortcake dessert. The show is scheduled for Fridays and Saturdays in January and February and six to seven days a week through the end of the year. Showtimes are 6 and 8:30 p.m. 865-868-1800

Dolly Parton's Stampede-Pigeon Forge
For more than a decade, Dolly Parton's Stampede has remained steadfast in its mission of providing high-quality entertainment to Smoky Mountains visitors. It has done so with a formula that includes a cast of 32 horses, skilled riders, over-the-top production values and a four-course meal that could challenge the heartiest of appetites. The show's theme is that of a friendly rivalry between North and South, settled in a series of competitions involving both head-to-head horseback competition and audience participation. Add buckboard races, trick riding, comedy, magic and an elegant and dazzling Antebellum ballroom scene and you have the makings of a night to remember. And Dolly Parton's Stampede's meal is legendary, featuring a whole rotisserie chicken, slice of pork loin, potato, corn, biscuit, soup and hot apple turnover. 800-356-1676, www.dixiestampede.com
Comedy Barn Theater-Pigeon Forge
Get your laugh on at this comedy showplace where chuckles reign supreme and every act's a scream. There's plenty of comedy, yes, but this show is packed with variety acts, including magicians, fire eaters, jugglers, ventriloquists, and hilarious animal performers. Of course, there are clean comedians that are appropriate for the whole family as well as live country and gospel music acts. The multimillion-dollar Comedy Barn Theater has been packing audiences in now for more than a decade and has been voted as the funniest show in the Smokies 11 years in a row in a local newspaper readers' poll. The Comedy Barn Theater is open year 'round, running on a limited schedule in January and February and then daily through the end of the year. Anywhere from one to three performances are presented daily. 800-295-2844
Sweet Fanny Adams Theatre-Gatlinburg
With more than 30 years of comedic zaniness under its belt, this downtown Gatlinburg landmark is the longest running show in the Smokies. It's also the most unusual show in the Smokies, presenting two original comedy musicals each season, with each show running on alternating nights. The humor is broad, full of slapstick and downright silly, but it's also undeniably hilarious. And one of the great things about the shows at Sweet Fanny Adams Theatre is that they're enjoyable for all ages. The auditorium seats fewer than 200 and the stage is small, but once the lights go down, the comedy is dished out in huge portions. The first half of each evening consists of a short musical comedy courtesy of the Great Victorian Amusement Company, the theater's troupe of performers. After the intermission, the show forges ahead with an old-fashioned audience sing-along and a vaudeville-style revue of music and comedy sketches. The season runs mid-April through December, with shows at 8 p.m. 877-388-5784
Great Smoky Mountain Murder Mystery Dinner Show-Pigeon Forge
This dinner theater production in Pigeon Forge takes audience interaction to the extreme by letting guests piece together clues and help solve a murder—not a real one, of course, but the crime that takes place during each three-act performance. Shows combine suspense, drama, intrigue and comedy mayhem with an expertly prepared dinner and scrumptious dessert. The result is an evening of entertainment and food that truly is to die for. 888-641-7183
Memories Theatre-Pigeon Forge
The King lives forever at this Pigeon Forge music showplace thanks to Elvis Presley tribute artist Lou Vuto, who has been the headline act on the Memories stage for most of the past 20 years. From his vocals to his costumes and swiveling hips, Vuto channels Presley nightly and keeps the crowds screaming for more, just the way Elvis used to. Of course, memories of Elvis are just part of what audiences experience nightly at the theater. In addition to Vuto, Memories presents a wide lineup of remarkable performers who are among the best in the musical legends business. Regular acts include Kenny Rogers, Buddy Holly, Roy Orbison, Cher, Neil Diamond and many more. Memories' Elvis & Friends Tribute Show runs from spring through the end of the year on a varying schedule. 800-325-3078
Outdoors
Forbidden Caverns-Sevierville
While you won't exactly journey all the way to the center of the earth, you'll get a good feel for what it might be like in this large underground cave located approximately 20 miles east of downtown Sevierville. Stalactites, stalagmites, towering chimneys and grottoes are among the many natural formations to be seen on your adventure. Interestingly, the natural temperature inside the caverns remains at a steady 58 degrees year-round. Enhanced by special lighting effects and a stereophonic sound presentation, your guided, 55-minute tour is chock full of memorable sights and will take you a half-mile into the heart of English Mountain. The trails are well lighted, and handrails have been provided where necessary. In addition to the rock structures, you'll also see a running stream that's believed to flow from a lake deep within the mountain. While you're there, you'll also learn about the people who carved out the cavern's colorful history, from the Eastern Woodland Indians who used the cave as shelter to the moonshiners of the 1920s and 1930s. 865-453-5972
Scenic Helicopters-Sevierville
When it comes to experiencing the scenery of the Great Smoky Mountains, there's nothing quite like a bird's-eye view. Fortunately for Smokies visitors, you can leave even the birds behind by taking a helicopter journey with Scenic Helicopter Tours. This high-flying area offers a wide range of tour options. Short introductory flights start at around $10 per person and go all the way up to long-distance excursions that cover approximately 70 miles. Flights include tours of some of the area's most notable sights, such as Douglas Lake, Bluff Mountain, Wears Valley and the national park. The guides are all experienced, certified pilots who emphasize safety and service. Scenic Helicopter Tours is open seven days a week from 10 a.m. to sunset, weather permitting. Helicopters are heated for comfortable flying in winter. Scenic also offers night tours and wedding flights by reservation only. 877-428-6929