The Pigeon Forge, Gatlinburg, Sevierville area is one of the country's best destinations for great vacations. Individuals and families alike can take full advantage of the area's attractions and activities. Here is a sampling of the fun that awaits you and your family on your next trip to the Smokies!



Rainforest Adventures
Located in the heart of the beautiful Smoky Mountains, this all indoor RainForest is open year round. Mixing fun with education the RainForest has been themed by one of the nations finest zoological contractors, whose work includes Animal Kingdom at Disney World. Featuring over 500 live animals, representing over 150 species, we are home to unique and beautiful creatures from the Rain Forests of the world. You will also see some amazing creatures from right here in the Smoky Mountains! Your Jungle Expedition begins once you pass through our faithfully recreated ancient ruins, past a 25 foot tall jungle waterfall, and enter the RainForest. Beautiful birds, ancient tortoises, deadly cobras & giant pythons await you in this amazing place. Live, educational programs are conducted daily by trained staff members who will let your family get up close and personal with some of our family! Don't forget your camera! Click Here for Rainforst Adventures.
NASCAR SpeedPark offers great family fun in the Smoky Mountains. With 9 race tracks to choose from, NASCAR SpeedPark offers the best go-cart racing in Sevier County. Kids can enjoy Baby Bristol or older kids can step up to The Qualifier or Young Champions track. Challenge your driving skills on the 750-foot slick track or The Intimidator named after Dale Earnhardt. For the most advanced in the group, try the Smoky Mountains Speedway which is a quarter mile D-oval shaped race track. Other rides and attractions include speed bumper boats, Speed Dome Arcade, Kiddie Speedway, "The Rock" rock climbling wall, The Pro Tow, Dragon's Lair Fantasy Golf, Indoor Playground, Rockingham Railroad, Speedway Draft, Victory Burnout and more.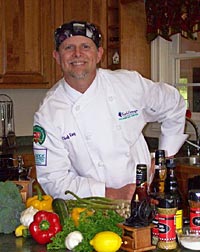 Personal Chef Service

At Fruitful Vintage Personal Chef Service we provide unique services featuring formal (plated and served) or informal (buffet, self-serve) 3 or 4 course dinner parties, appetizer parties and catering events. Our menus are customized just for you and your guests and prepared, on-site, in your cabin kitchen. Our services start for two guests and can accommodate meals for breakfast, lunch, or dinner. Entertaining couldn't be simpler or more enjoyable than by having your own personal chef! Call Chef Ray today at 865-774-0251 to request menu selections and a free quote.


Theaters

Theater live shows in the Smokies are for people of all ages. Some theaters are open year round, some have both matinee performances as well as evening shows. Here is a brief description of ten of these theaters and what they offer.

Hatfield and McCoy Dinner Fued
Another great theater from Fee/Hedrick Entertainment. You will eat, laugh and be amazed at the show. Located on the Parkway in Pigeon Forge. 865-985-5494


Comedy Barn Theater in Pigeon Forge, Tennessee
Wholesome family entertainment. Clean jokes and skits appropriate for all ages. Magic acts, animal acts, comedy skits, and live music. Located between traffic lights 3 & 4 in Pigeon Forge. Open year round. Shows nightly at 8:15 p.m.and matinees at 5:00 p.m. 1-800-29-LAUGH or 865-428-5222.

Country Tonite Theatre
Featuring the Smokies' largest cast, Country Tonite offers a star-studded, non-stop performance with something for everyone. Singers perform great country songs, talented dancers present high-energy routines, and family oriented comedy is provided by Bubba the Red-Neck Ranger. Located at 129 Showplace Blvd., Pigeon Forge (just north of Traffic Light #1.) 800-792-4308 or 865-453-2003 www.countrytonitepf.com
Dixie Stampede Dinner & Show
Visitors and locals agree that Dolly Parton's Dixie Stampede Dinner and Show in Pigeon Forge, Tennessee is a fun-filled, action-packed extravaganza that everyone should experience! It's the perfect place for families, friends and groups to gather for spectacular special effects, amazing stunts by the most talented performers in the area.

Memories Theatre
A Salute to Elvis & Friends by Lou Vuto, the Memories Showband featuring Hank Miles, the Three Inspirations, and Charlie Hodge, friend and band member of Elvis. Revisit the legend and enjoy a trip back to the King of Rock, Gospel, and Rockabilly. And, each show also offers tributes to other legends including top impersonations of Kenny Rogers, Roy Orbison, Buddy Holly, the Blues Brothers, Dolly Parton, Tom Jones, Jerry Lee Lewis, and more. Showtime, 8:15 p.m. open year round. Located at 2141 Parkway, Pigeon Forge. 800-325-3078 or
865-428-7852 www.memoriestheatre.com





Horseback Riding

Horseback riding in the Smokies can be a great time for those who want to get away from the hustle and bustle of traffic and enjoy the great woodlands of the area. There are several stables to choose from including one which is located in the National Park itself And there are several stables located just a few minutes drive from the VCR office. Some offer guided rides while others let you discover things at your own pace and direction. Guides are available for children rides and groups can find discount rides.

The Deer Farm Riding Stables offers half-hour and one hour rides on gentle horses through shaded woodland trails. Located at the Deer Farm, Sevier County's oldest and largest zoological park. Just 6 miles from downtown Sevierville on Hwy. 441 (Dolly Parton Parkway).
865-429-BARN

Douglas Lake View Stables is open all year (weather permitting) with novice to expert trails. Choose from lake shore and mountain trails with rides that last from a half-hour to 10 hours. Great guides, and for those who so desire, weddings on horseback performed the resident chaplain are available. Free feed farm with llamas, emus, burro, rare chickens, and giant geese. Open 8 am til 5 pm. 7 days a week. Located at 1650 Providence Road, Sevierville. 865-428-3587 www.smokymtnmall.com/mall/dlvs

Five Oaks Riding Stables is on the Parkway in Sevierville, behind the Oak Tree Lodge (first traffic light south of Super WalMart). Offers guided trail rides (half-hour or one hour rides). For ages 6 and up.
Open daily 9 am til 6 pm. 865-453-8644

Smoky Mountain Stables are located inside the National Park and offer experienced guides on all rides. Choose from 1 hour, 2 hour, and half day rides. For ages 6 and up. Just four miles east of Gatlinburg on Hwy. 321 (light #3). 9 am – 5 pm spring and fall, 9 am – 6 pm summer.
865-436-5634


RIVER RAFTING

Whether you are an experienced paddler ready for Class III and Class IV rapids, or a newcomer simply wanting to enjoy the breathtaking scenery offered during a heart-pounding ride through "white water" there is a trip available which will be just right for you and your friends or family. All trips described below are an easy drive from Gatlinburg.





Rafting In The Smokies offers trips with fun and excitement for the whole family. Experienced guides take you through sparkling blue waters as you race through rapids on some of the most scenic rivers in the eastern United States. Choose from three great locations:
(1) Nantahala River. A thrilling 8 mile (3.5 hour) ride down the untamed, sparking, breathtakingly beautiful river gorge of the Nantahala National Forest. Children must weigh at least 60 pounds. Certified guide on each trip;
(2) Big Pigeon. Rip-roar down the most challenging whitewater in East Tennessee. In just 5 miles of river, fly through 12 Class III and 2 Class IV rapids. No experience necessary. Skirted on one side by the Great Smokies and the other by the Pisgah National Forest, the river's scenery is just as dramatic as its rapids. Certified guide on each 1.5 hour trip. Only thirty minutes from Gatlinburg. Children must be at least 8 years old, or weigh at least 70 pounds;
(3) Lower Pigeon Float Trip. The water is calm and the scenery heart-stopping on this 3.5 mile stretch of the Big Pigeon River. Certified guide on each 1.5 hour trip. Children must be at least 4 years old. Only thirty minutes from Gatlinburg. 800-PRO RAFT or 865-436-5008


Smoky Mountain Outdoors Unlimited offers white water rafting at its finest. Choose from two exciting rides on the beautiful Big Pigeon River, just thirty minutes from Gatlinburg: (1) Upper Section Trip. An exciting 6.5 mile trip down Class III and Class IV rapids. Certified guide in each boat. No experience necessary. Trip takes two hours. Children must be at least 8 years old, or weigh at least 70 pounds; (2) Lower Section. This trip is made for those who don't want the thrill of slashing through the 70+ rapids on the Upper Section trip. This trip is perfect for the little kids and is a 5.5 mile trip through the scenic Pigeon River Gorge. Lots of splashing and water fights, each participant must be at least 3 years of age and must be accompanied by an adult. Certified guide on each boat. 800-771-RAFT or 865-5290


USA RAFT offers two classes of trips on five great rivers, all an easy drive from Gatlinburg. Family Class Trips are perfect for younger children and first-timers, these trips provide a gentle, low-risk introduction to rafting for the whole family.
Adventure Class Trips are for those who want to pick up the pace for an unforgettable rafting experience. More challenging than the Family Trips, these trips are ideal for older children, experienced rafters, and adventurous first-timers.

(1) French Broad River. Located near Asheville, this gorgeous free-flowing river is delightful. A favorite for vacationers and a wonderful welcome to rafting. Must be at least 8 years of age. Half-day or full day trips available.
(2) Nolichucky River. This beautiful river is Daniel Boone and Davy Crockett country. Raft through a beautiful remote wilderness gorge and experience the challenging rapids of the Upper Section or choose a calmer, more relaxed trip on the Lower Section. Must be at least 6 years of age for the Lower Section and at least 12 years of age for the Upper Section.
(3) Big Pigeon River. The Pigeon River is the perfect getaway for visitors to the Great Smoky Mountains National Park. The Upper Section has the rapids and fast-paced fun while the Lower Section trip goes at a relaxed pace more suitable for the kids. Must weigh at least 60 pounds for the Lower Section and must be at least 10 years of age for the Upper Section trip.
(4) Nantahala River. Enjoy the delightful Family Class rapids on one of the most popular rivers in the Southeast. Nestled in the beautiful Nantahala National Forest near the southern edge of the Great Smoky Mountains, this river is ideal for beginners and small children. Participants must weigh at least 60 pounds.
(5) Ocoee River. The Ocoee was part of the site for the 1996 Olympics. Choose from two, 5-mile fun-filled trips. The Middle Section, a long-time favorite of rafters features action-packed adventure from start to finish. The Upper Section takes you on a breathtaking run through the Olympic course. Must be at least 12 years of age for the Middle Section, and must be at least 14 years of age for the Upper Section trip.